2016 Jeep Grand Cherokee vs. 2016 Ford Escape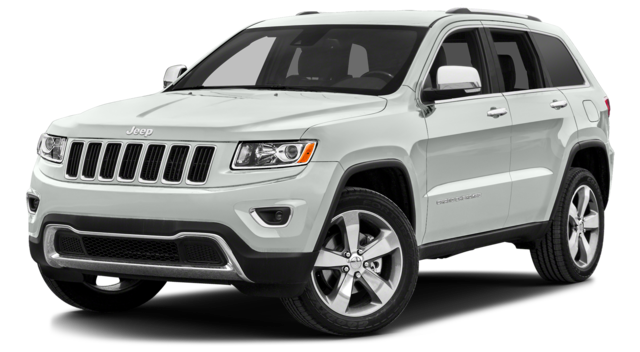 Jeep Grand Cherokee
Ford Escape
When it comes to finding an SUV that is able to provide aggressive levels of power alongside impressive performance and look stylish while doing it the search ends with the 2016 Jeep Grand Cherokee. To show just how impressive the Grand Cherokee is, we've compared it to another SUV: the 2016 Ford Escape.
Performance
In terms of performance, the 2016 Jeep Grand Cherokee easily surpasses the 2016 Ford Escape. With a powerful 3.6L V6 engine that is able to deliver 295 hp and 420 lb-ft of torque with ease the Grand Cherokee is able to conquer tough jobs effortlessly. On the other hand, the 2016 Ford Escape lags behind with a 2.5L engine that maxes out at 168 hp and 170 lb-ft of torque.
The Grand Cherokee is also much better suited for adventure with the ability to tow up to 6,200 pounds and 68.3 cubic feet of interior space to store cargo. The Ford Escape lacks this ability due to its maximum towing capacity of a mere 1,500 pounds and its interior cargo space maxing out at 67.8 cubic feet. Lastly, the Grand Cherokee is able to provide a much more stable ride with a long wheelbase of 114.8 inches compared to the Escape's 105.9 inches.
Features
Features for the 2016 Jeep Grand Cherokee and the 2016 Ford Escape are similar in some of the more basic areas, however the Grand Cherokee is able to provide drivers with a little more bang for their buck with some impressive comfort and convenience enhancing technology that the Escape lacks. For example, the Grand Cherokee comes with four-way lumbar adjust, all-wheel traction control, rain brake support, trailer sway control, and Hill Start Assist while the Escape either does not come with these features or only offers them as optional.
Which is Better?
When looking at the big picture, it seems like the decision between the two vehicles in this scenario is pretty cut and dry. The 2016 Jeep Grand Cherokee is able to provide more power and more features than the 2016 Ford Escape and is a much more versatile vehicle. For all of your SUV needs, the Jeep Grand Cherokee is the better choice in this particular case.
Get the Power You Desire with the 2016 Jeep Grand Cherokee
The search for a powerful and durable SUV stops today thanks to the 2016 Jeep Grand Cherokee. Get started on your journey towards better driving today by visiting Jackson Chrysler Dodge Jeep Ram at 1500 Strachan Road SE in AB to view our current inventory. We can also be reached by phone at 403-527-5581 with any questions or to schedule a test drive for you.