Knight Lifetime Engine Warranty
OUR GIFT TO YOU!
Drivers purchasing a new or pre-owned vehicle from Jackson Dodge will be pleased to know that we offer a Lifetime Engine Warranty, an offer exclusive to the Knight Automotive group! Our customers have peace of mind knowing all our used vehicles are fully inspected and reconditioned by certified technicians, as well as backed by this Lifetime Engine Warranty.
LIFETIME ENGINE WARRANTY BENEFITS
The Lifetime Engine Warranty is included with the purchase of your new or pre-owned vehicle!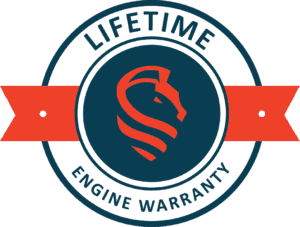 This warranty offers extensive coverage on engine services performed on your vehicle where the only cost to you is a $200 deductible (per visit). With the costly nature of engine repair services, this coverage can present a considerable amount in savings!
LIFETIME ENGINE WARRANTY SPECIFICATIONS
In order to qualify for and maintain our Lifetime Engine Warranty, the following requirements must be met:
The vehicle must have less than 160,000 km on the odometer and be less than 9 years old at time of purchase
Dodge, Chrysler, Jeep, Ram, Fiat brand vehicles must be serviced regularly from Jackson Dodge according to its recommended maintenance schedule from FCA.
All non-FCA vehicles must receive regular maintenance from Jackson Dodge, including oil changes every 5,000 km and tire rotations every 10,000 km.
High-performance vehicles or those with diesel engines are not eligible to receive the Lifetime Engine Warranty. Please ask our Financial Services Manager for more detailed coverage information.
QUICK, EFFICIENT AND RELIABLE SERVICE DEPARTMENT
At Jackson Dodge, our certified and experienced automotive technicians are readily available to help solve any automotive issues you might have. Drivers can turn to our team for their next routine oil change, tire rotation or for any other maintenance or repair their vehicle may require. We're here Monday to Saturday for your convenience!