The Ram 1500 Diesel Features Incredible Performance and Efficiency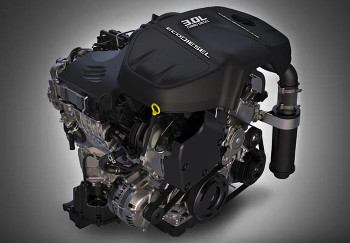 The Ram 1500 has long been the gold standard for tough, capable, go anywhere, do anything trucks. With the introduction of the all new 2014 Ram 1500 diesel, we can now add fuel efficiency to that list of appealing features. The diesel engine in the new Ram is one of the most advanced diesel engines on the road today with up to 7.1L/100 KM highway. It truly has been designed with the real needs of truck drivers in mind. This quick guide tells you everything you need to know about this exciting automotive innovation.
Efficiency
The best thing about diesel engines is that they run more efficiently without sacrificing power. Now that the Ram 1500 comes equipped with a diesel engine, it is able to put out the kinds of efficiency ratings you would never expect from a full sized truck. Drivers will be able to travel around while enjoying 10.2L/100 KM, a rating that leads this class. Thanks to an ultra efficient design and B20 biodiesel capability, this new engine requires a fraction of the fuel most trucks do.
Here is another way to think about it. If you drive 70 miles a day in your truck, you would need nine fewer fillups over the course of the year with this diesel engine compared to a conventional gas engine. Depending on gas prices, you would save over $400.  The more you drive, the more you save.
Performance
Truck drivers are often weary of efficient engines because they require sacrificing power, performance, and capability. That may have been true in the past, and with some other current automakers, but the Ram 1500 diesel proves that good trucks don't need to waste gas to get the job done. This diesel engine produces 420 lb-ft of torque, which is enough to let you haul 1620 pounds and tow a whopping 9200 pounds. Clearly, this innovative diesel engine can rise to the occasion.
The Ram 1500 Diesel is in a Class Of its Own
There is no other truck on the market right now that can deliver these levels of power and efficiency in tandem and no other 1500 truck with a diesel engine. If you want to save real money at the pump but still need a big, brawny truck, the Ram 1500 diesel is the obvious choice. Visit Jackson Dodge to learn more about this exciting new engine.